Reduce Pain
Improve Mobility
Enhance Quality of Life
---
Your pets are part of your family and you want them to have the best quality of life. Laser therapy can help achieve that goal. For over 30 years laser therapy has been used to successfully treat conditions in humans. We are pleased to offer this exciting benefit for your pet!
Conditions that can be improved include:
Arthritis
Acute and chronic pain
Back injuries
Sprains and strains
Inflammation and edema
Wound healing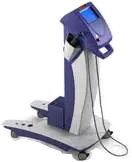 How it works and included benefits:
Anti-Pain (Analgesic): Laser therapy has a high beneficial effect on nerve cells which blocks pain transmitted by these cells to the brain and which decreases nerve sensitivity. Also, due to less inflammation, there is less edema and less pain. Another pain blocking mechanism involves the production of high levels of pain killing chemicals such as endorphins and encephalin from the brain and adrenal gland.
Accelerated Tissue Repair and Cell Growth: Photons of light from lasers penetrate deeply into tissue and accelerate cellular reproduction and growth. The laser light increases the energy available to the cell so that the cell can take on nutrients faster and get rid of waste products. As a result of exposure to laser light, the cells of tendons, ligaments and muscles are repaired faster.
Increases Metabolic Activity: Laser therapy creates higher outputs of specific enzymes, greater oxygen and food particle loads for blood cells.
Reduced Fibrous Tissue Formation: Laser therapy reduces the formation of scar tissue following tissue damage from cuts, scratches, burns or surgery.
Improved Nerve Function: Slow recovery of nerve functions in damaged tissue can result in numbness and impaired limbs. Laser light will speed up the process of nerve cell reconnection and increase the amplitude of action potentials to optimize muscle action.